Figured I ought to actually use this for its intended purpose again.
So, I'm clearing out the plastic chest of drawers (or "art trunk", as I call it) next to my mac at the moment. The reason? I got this a couple of weeks ago: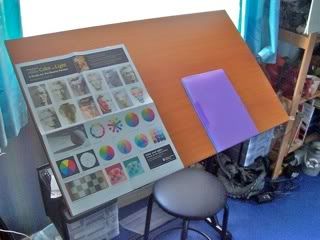 I've always wanted one of these since I was a kid, and during a visit to Hobbycraft (an awesome store with everything under the sun for artistic types) they had this desk at £95. They usually cost £200, minimum. Sure, it's got a wonky wheel (problem with the weld) but it's pretty sturdy. So I'm finding and putting my art materials in the two side drawers. And I'm a little amazed at what I've got in this art trunk:
( Cut for sanity's sake )
And this is one drawer. There are four.
Oh, and as for LJ's nomination for "Biggest Prats of The Year," I'm currently trying to decide who is being stupider in this whole fiasco - the LJ staff, or some of the users (why does anger make people stupider?).
( My thoughts on the subject )
Also, I feel I need to apologise to my f-list. I know there's no obligation to comment on other people's journals, but I can't help but feel I'm letting some of you down. I do read every single post you guys make, though, even if it results in me face-planting on the keyboard at 2am (for the record: ow).
PS: the Red Arrows flew past my bedroom window earlier. That was unexpected.